Solo Eyewear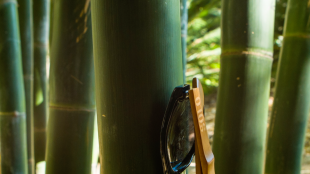 Solo Eyewear is a very unique little brand because they have adopted the buy one give one model to sunglasses. They're a small little start up, but are making a big difference in lives across the world.

They initially emailed me a while ago and were looking to do some kind of promo video. The problem was that they barely had any money so I had to think of a commercial we could do with very minimal crew required. I began thinking about how I could show bamboo growing, but I couldn't setup a camera in a bamboo forest for 4 days. What I ended up doing was growing bamboo in a little pot on my back porch and compositing it in After Effects. But more on that below. Check out the video now.
Production
Shooting the bamboo growing was right up my alley because of my experience with timelapse photography. The main hurdle was getting the background behind the bamboo to be black so I could remove the black in post. That required me to put a flash full power about 10 inches away from the subject and changing the batteries in it every 12 hours.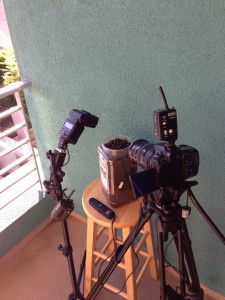 Filming in the forest, we couldn't afford a real location, so we used UCLA's botanical gardens early on a Sunday morning and didn't run into any issues. A lot of the bamboo there had been defaced with graffiti though, so I had to either frame around it, or remove it in post.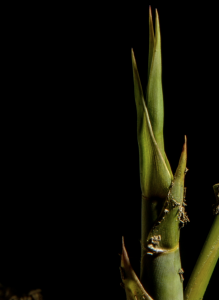 To make it look like the forest bamboo was growing, I employed a motorized slider to give me some nice, subtle jib shots. The fact that I was so close and the background was out of focus meant that it looks like the trees are actually growing when I'm just moving the camera ever so slightly.
In post, I took some still photographs of the glasses that I shot and composited them into the jib shots of the bamboo forest.  Through the use of various blending modes and keying effects, I got the look I was happy with.  The image at the right is a still of the bamboo timelapse I shot on my porch.  Since the flash was so close, it made the background fall off into black, even in the brightness of day.  I then used that black to make it transparent so I could composite the growing bamboo shoot onto background footage of the forest floor.
Credits
Little Girl: Lyanna Van Scyoc
Directed by: Ross Ching
Voiceover and Color: David Adametz
Produced by: Don Le
blog comments powered by