DTS – The Speaker Orchestra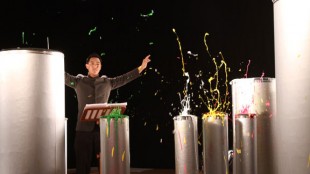 Every year DTS creates a promotional video for CES in Las Vegas. This year, the commercial production company I'm with wanted to do something different. They wanted to make something that people would replay, something that would stimulate people's minds when they view it on their computer screen.

I think that inspiration comes from a lot of places. In the case of myself growing up in the Internet generation, much of my inspiration comes from there. It's a hobby of mine — scouring the web for the newest and most original piece of work. So when I stumbled across this video, I instantly wanted to try it for myself.


Watch the Behind the Scenes here
PRE-PRODUCTION
When I first heard of the project, there were only two things to keep in mind — 3D and DTS' "Neo-X" (AKA 11.1 immersive surround sound). I LOVED that I had a nicely groomed sand box to shape an idea from. I remembered seeing Canon's Pixma commercial and I instantly knew I wanted to do something like that.
But what if we took it one step further? What if a regular orchestra had been replaced by a series of speaker heads with paint atop them? It was definitely the most agressive idea I had ever come up with.
PRODUCTION
What we would need
40 paper tubes ranging from 3″ to 15″ diameter about 4′ tall
40 speaker drivers
A roll of latex to cover the speaker heads
30 bottles of tempera paint
2000′ of speaker wire
A Pro Tools system with 40 channels worth of outputs
A mixing board with 40 channels worth of inputs and outputs
40 channels worth of amplifiers
200,000 watts of tungsten light (compare this to a typical 60 watt household bulb)
2 high speed cameras (for 3D)
A 21st Century 3D rig
And a Technocrane
To add to the mix, we were shooting at 500 frames per second (1 second translates to 21 seconds when played back at 24fps), so the paint needed to fire within .02 seconds of each other. To eliminate as much human error as possible, we made a series of 20-100hz tones in Pro Tools and lined them up to within .001 seconds of each other. This way, we could time precisely when each speaker would "fire". The tones would go from Pro Tools to our mixer which would route the tone to the correct amplifier which would then amplify the signal enough to vibrate the latex film on top of the speaker and send the paint shooting up.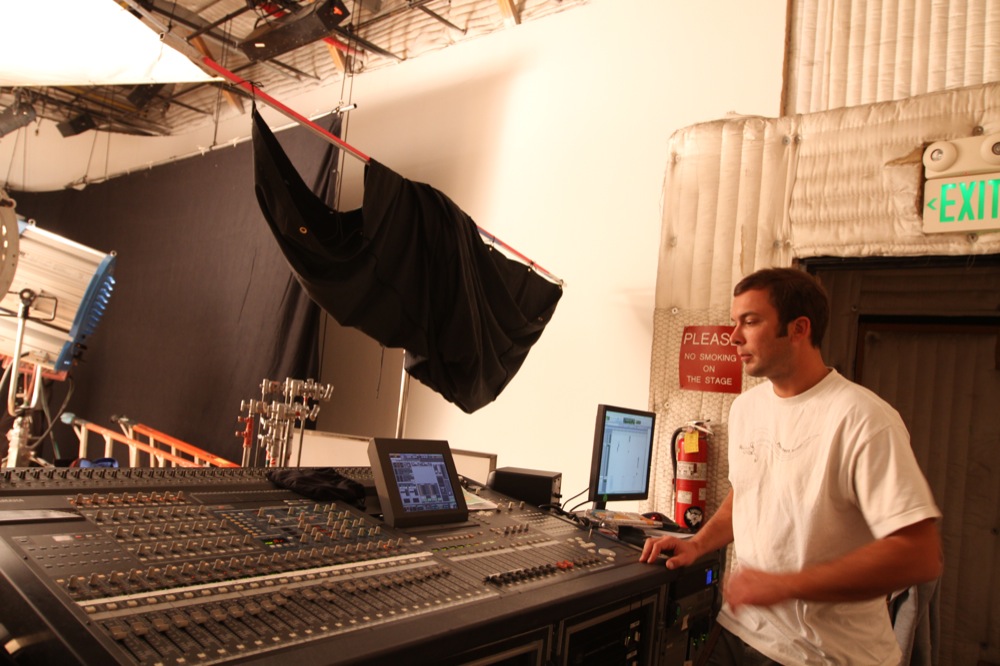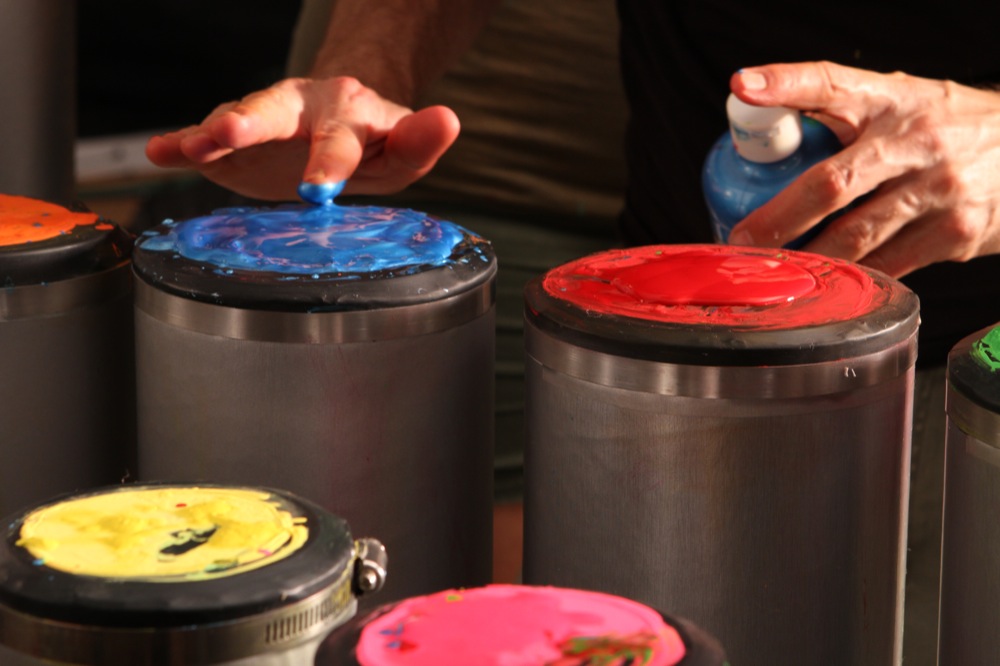 LEFT: My audio assistant Justin looking over the mixing board RIGHT: My production designer Paul Dove applying paint to the speakers
Our 3D camera was another beast that had to be tamed. What we were doing had never been done before. The synchronization of all these variables had never been done before. It felt like we were pushing the limits of physics.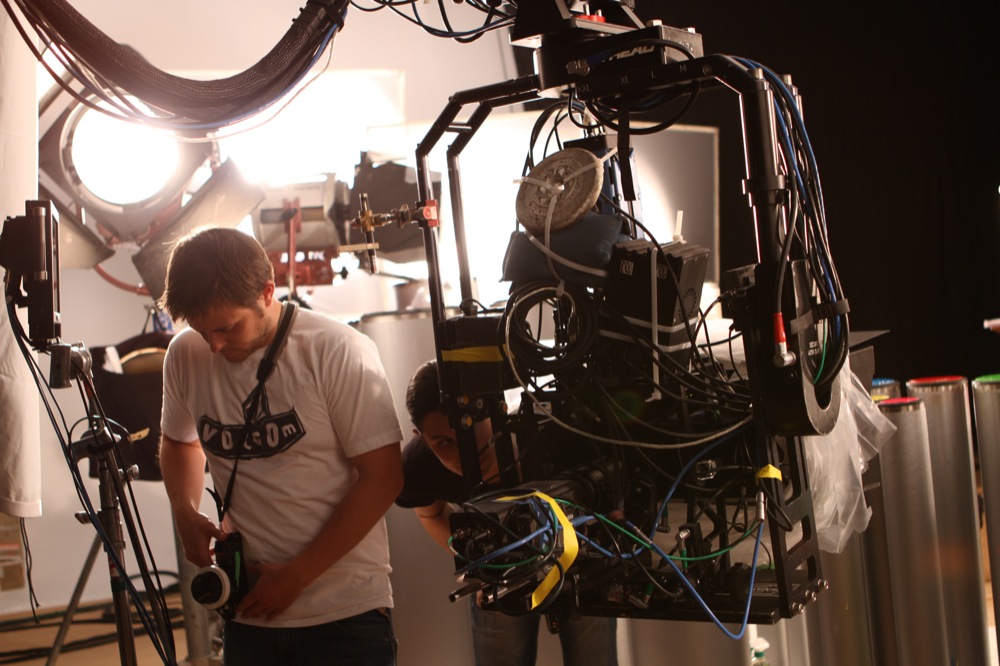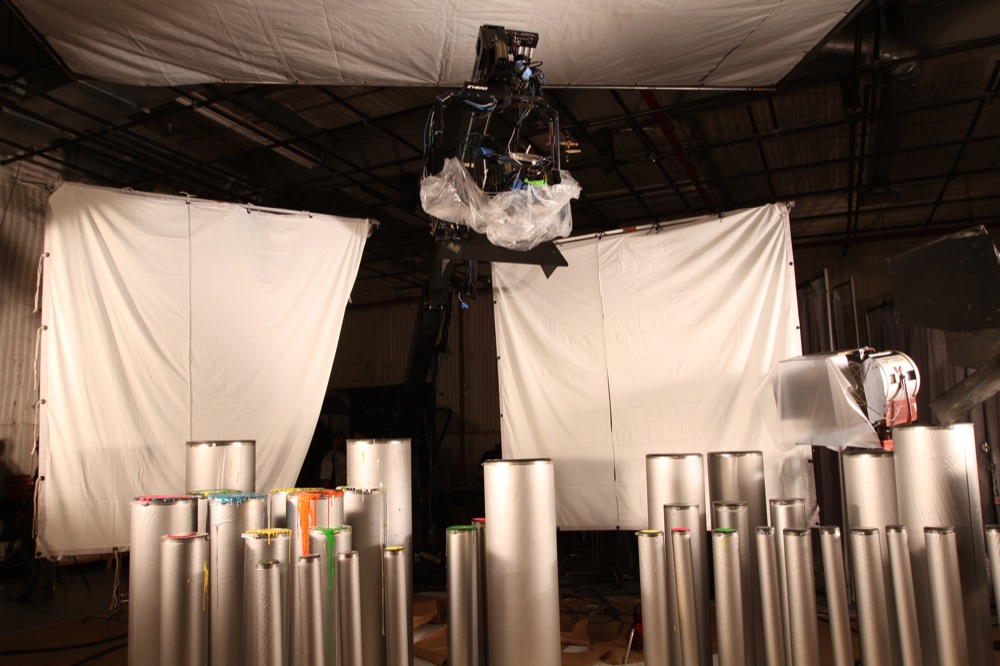 LEFT: If you look closely, there's two cameras buried in our rig RIGHT: The 80-100lb camera was mounted on a Technocrane to make it easy to maneuver around set
From the wireless follow-focus system not synchronizing with the two cameras to speakers getting too hot and overheating, we had to roll with the punches on the one shoot day we had. Luckily I had an awesome crew that knew exactly what needed to be done to fix the issues.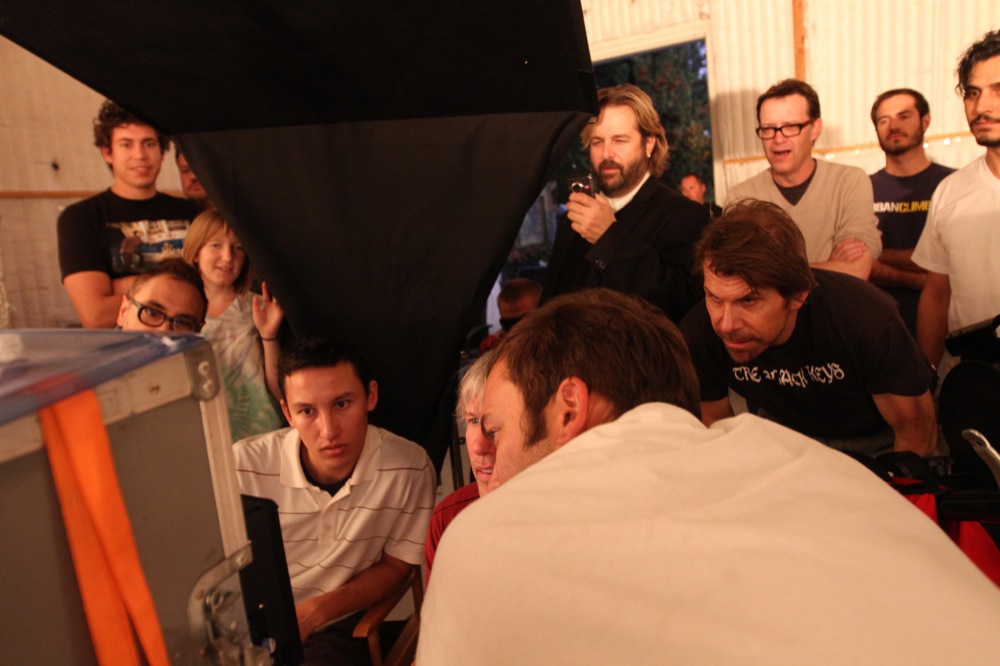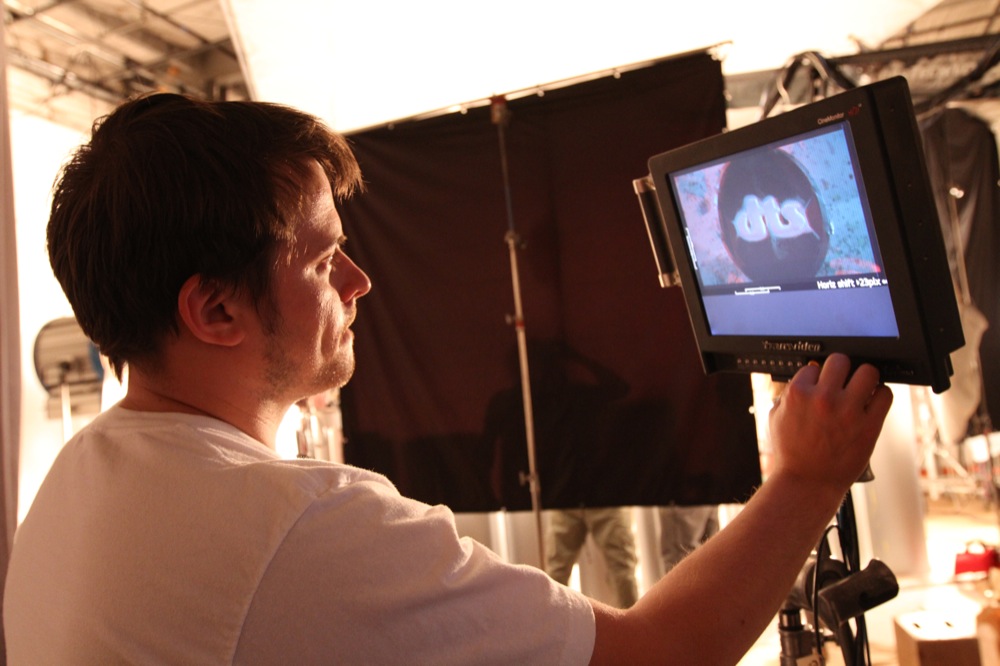 LEFT: After we took each shot, everyone huddled around the one monitor to look at it RIGHT: Our stereographer checks the 3D convergence and parallax for every shot
POST-PRODUCTION
Once all the footage was captured, we did an in-house offline edit in Final Cut Pro. This gave us precise editing instructions to take to the post house, Brickyard, so they could do the finishing on their Autodesk Flame workstations. I must admit, their post facility is THE most amazing office I have ever seen.
Brickyard added the concert hall background, the coloring, the clean up of some shots, and they were even able to make some speakers that didn't fire, fire. All this, in 3D. I was truly amazed at their expertise and willingness to work with us.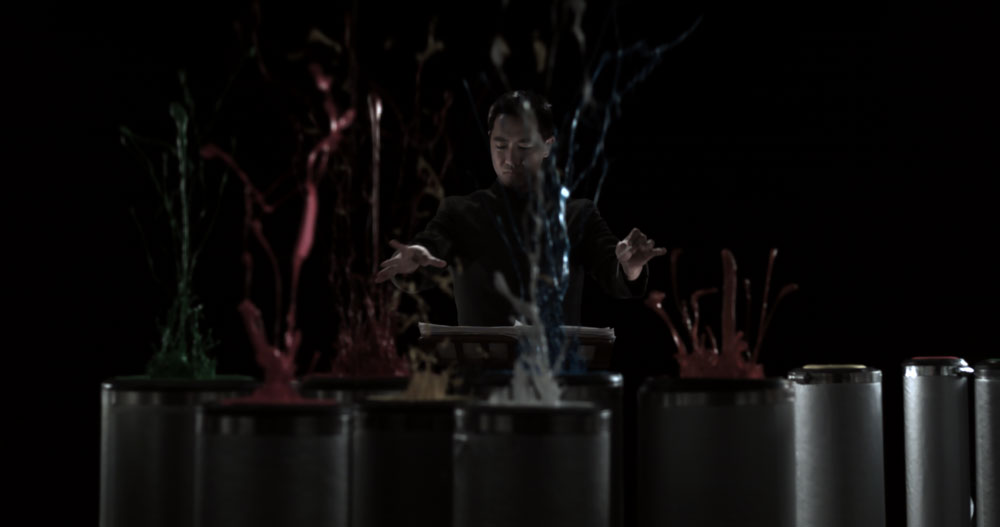 Before & After Brickyard had their way with the footage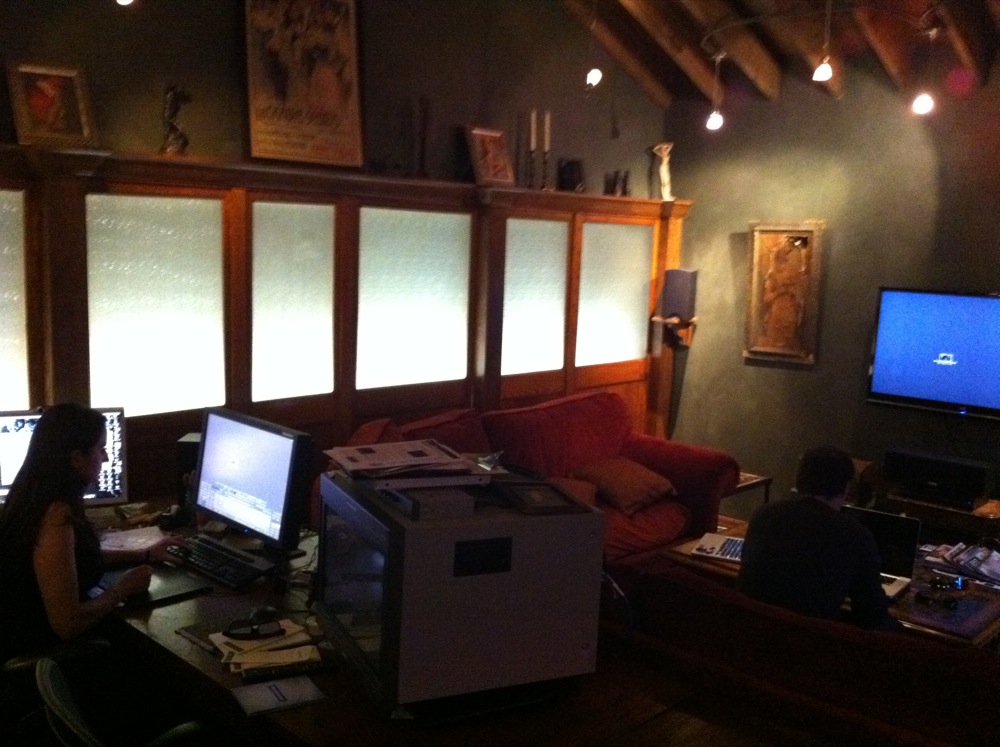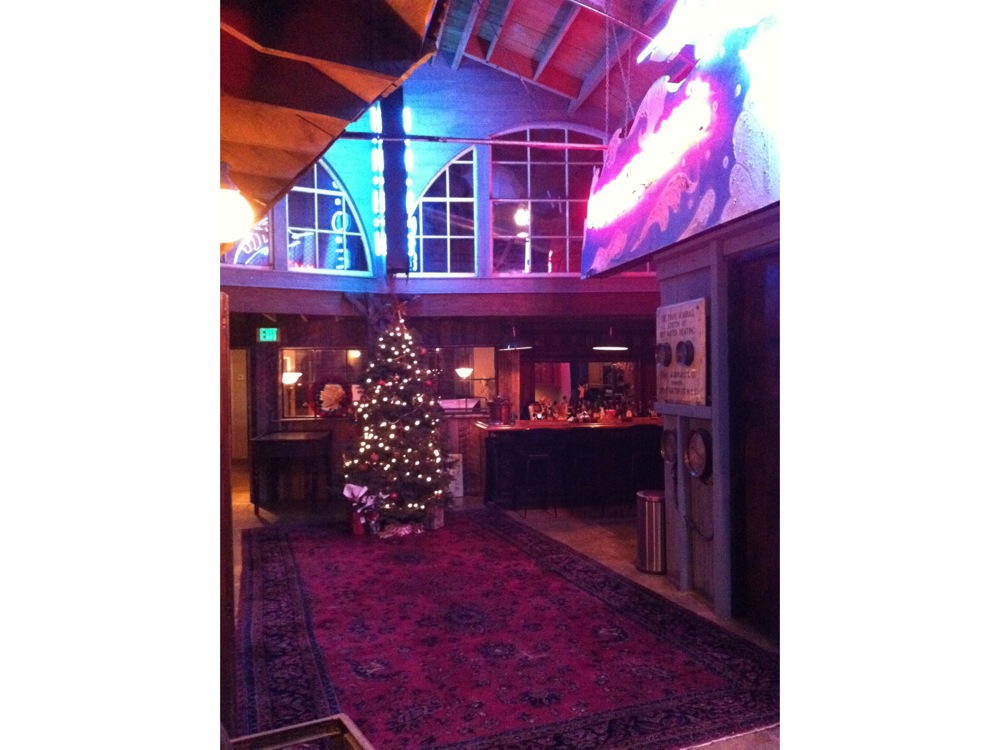 LEFT: Inside one of their finishing suites RIGHT: Brickyard's main entry way. They have a full bar!
The music was written and performed by Diego Stocco and Patrick Leonard, and mixed by Fred Maher at DTS' awesome mixing studio. When I stepped in that room, I think that was THE best audio I've ever heard.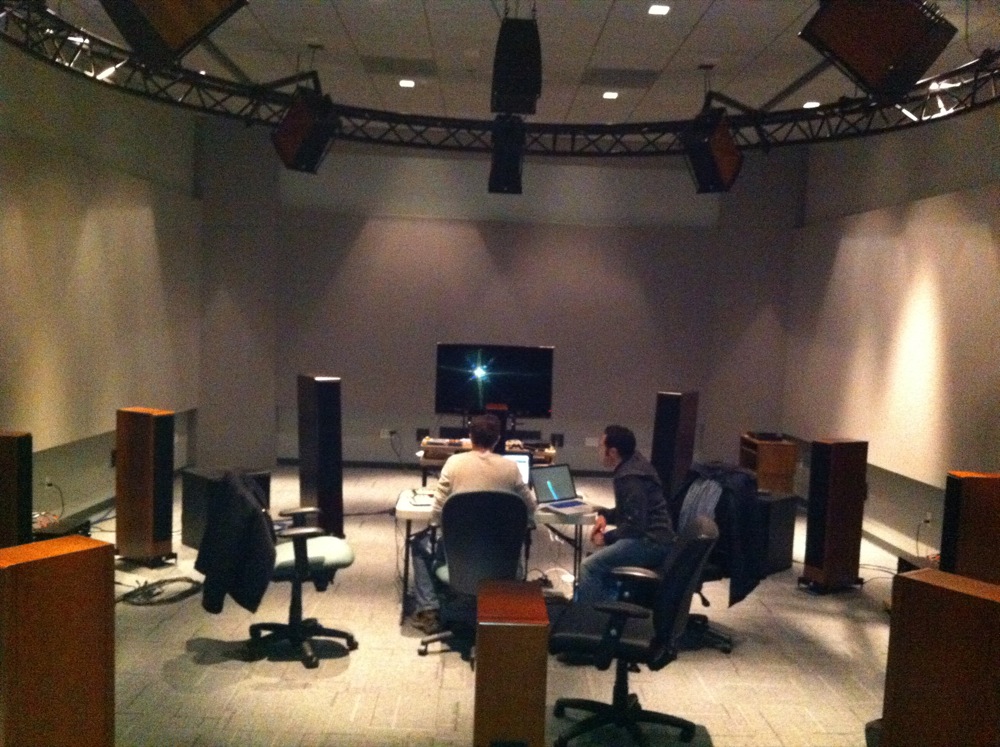 CREDITS
Conductor George Shaw
Client DTS – David Blasucci
Agency One Plus Two, Inc. – Jim McNutt
Executive Producers J.P. McMahon & Tristan Drew
Producer Carl Hampe
Director of Photography Jim Matlosz
1st AD Paul Yates
Editor Ross Ching
VFX Brickyard VFX; Jeff Blodgett, Mandy Sorenson
Post Music Mix Fred Maher
Music Composers Diego Stocco & Patrick Leonard
BTS & Still Photography Don Le & Bryan Shin
Location Panavision, Woodland Hills, CA
Special Thanks to:
Darren Roark
blog comments powered by