3 Minutes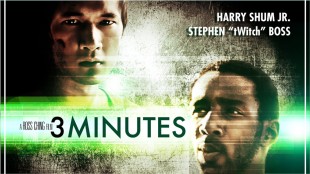 I liked the idea of this short story called "The Most Dangerous Game" so I adapted it back when I was in film school, but when I made it back then I didn't have many people to help me make it so it didn't turn out too great. After being in the industry and living in LA for a few years now, I got a chance to make new friends and really take advantage of their professional talents.

The producers of the piece, George Wang and Don Le were in talks with Harry Shum Jr. to collaborate on something when I met them. They brought me on the project, and were initially going to do a different idea involving dancing, however, the more we developed the idea, it proved to be not very feasible. That's when we decided to do this "3 Minutes" idea.


Watch 3 Minutes on Vimeo here.
CAST
Harry Shum Jr.
Stephen "tWitch" Boss
Katrina Law
Thaine Allison
PRE-PRODUCTION
When I initially wrote out the concept and showed it to Don he said, "This would be perfect for Harry Shum." I replied, "Yeah, right. There's no way he'd be interested in working on our stupid no budget piece." Then Don introduced me to George who took the idea to Harry and his manager. Needless to say they were actually interested! Harry was awesome in his willingness to make this thing a success. He even called up tWitch to see if he'd be interested. He jumped at the opportunity.
We were initially going to shoot the piece at this strip of railroad track in downtown Los Angeles, but because of safety and security, we decided to move to a granite slab yard. Before we moved however, I made an overhead drawing of the area.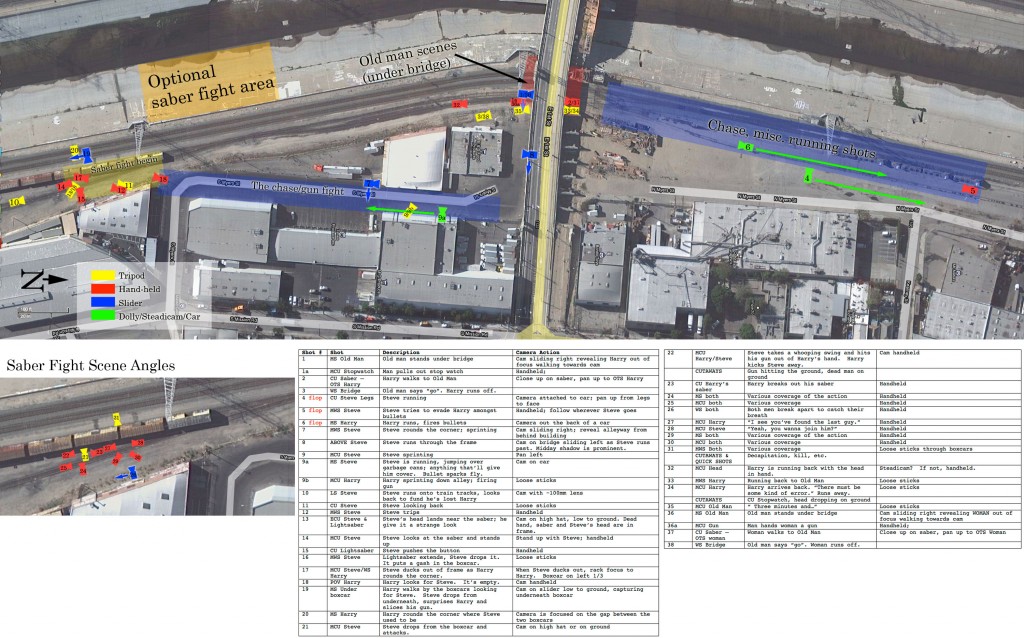 Don and George knew lots of people who jumped at the opportunity to work on this film. I was amazed at the level of talent we had on our crew. And they all volunteered their time to make this thing as good as possible.
PRODUCTION
We shot the entire piece on the Canon 5D Mark II and the Canon 7D in a 12 hour day from sunrise to sunset. Our Director of Photography, Nate Fu, even had his own grip and lighting truck that he lent to the project. That helped us greatly.
We even had an American Gladiator help us out with the fight choreography.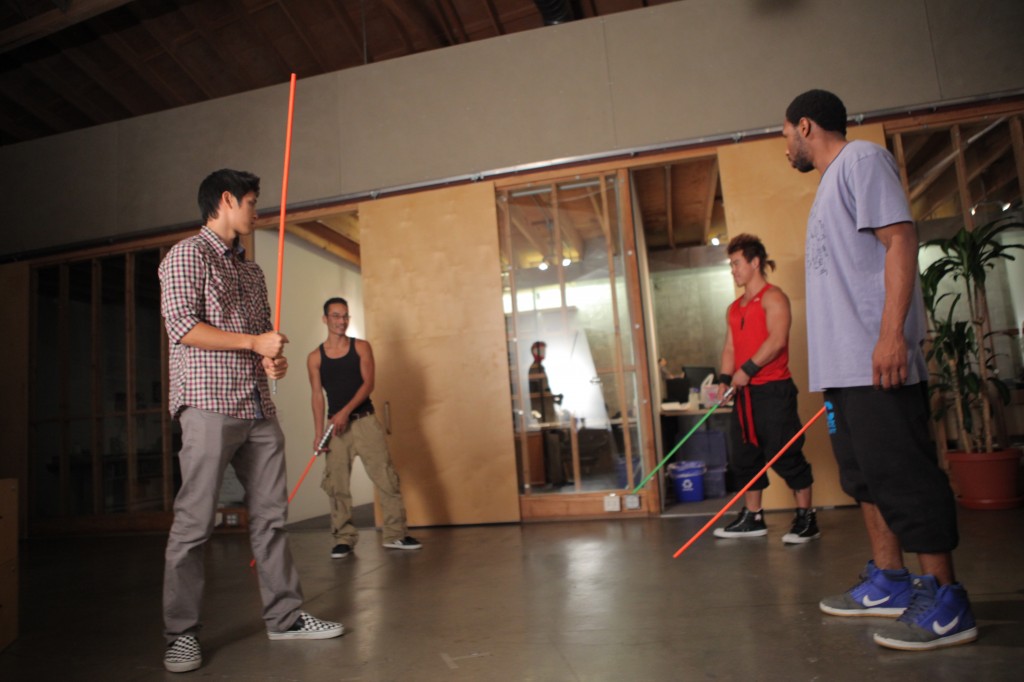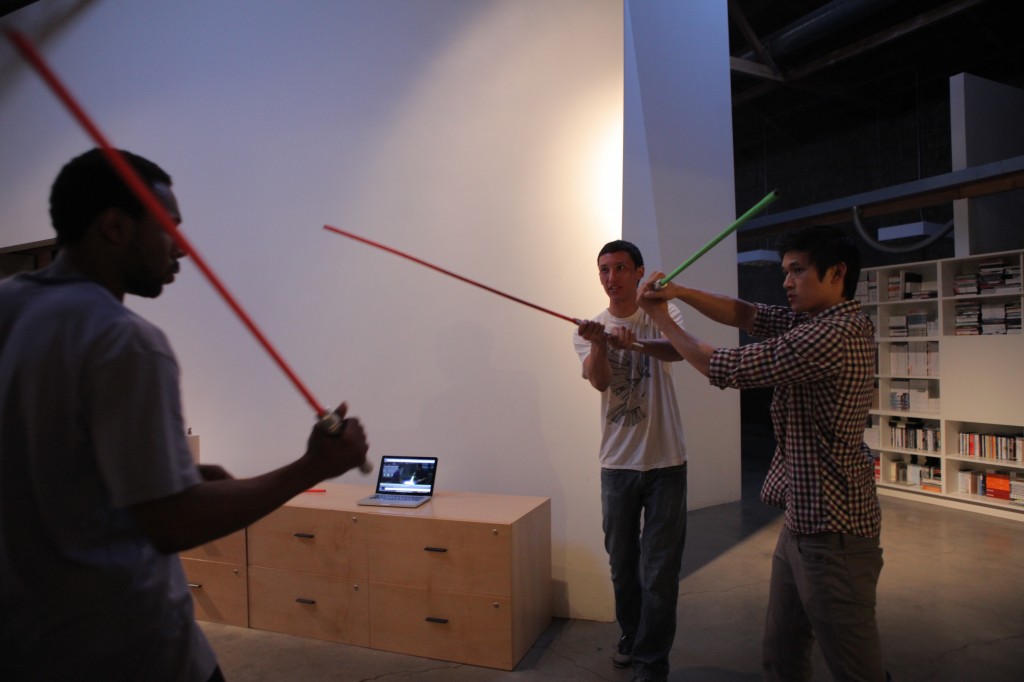 LEFT: Harry as seen through the steel pipes RIGHT: On-set rehearsal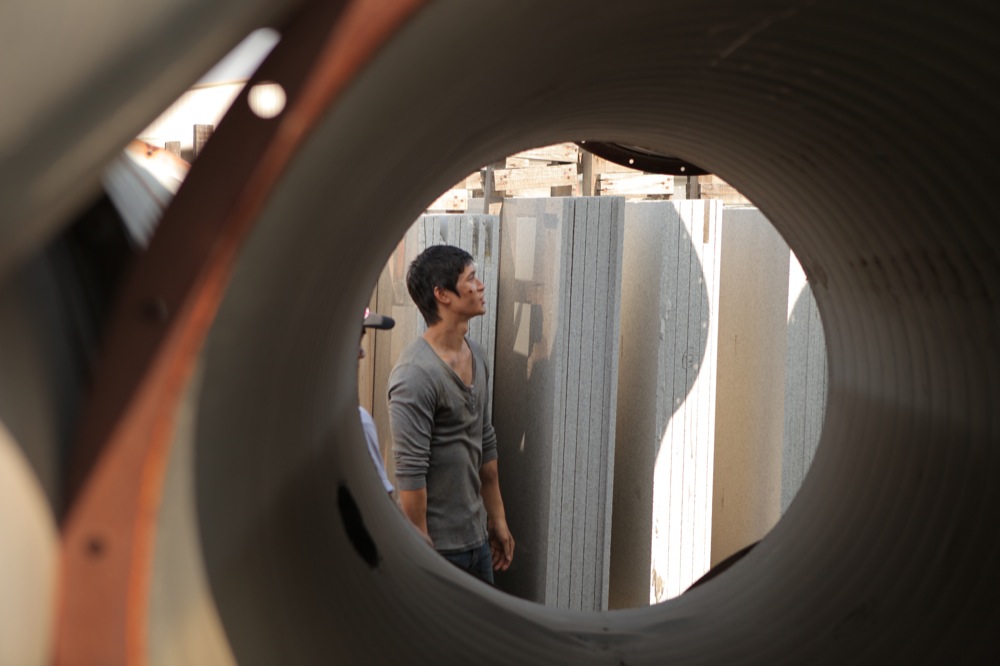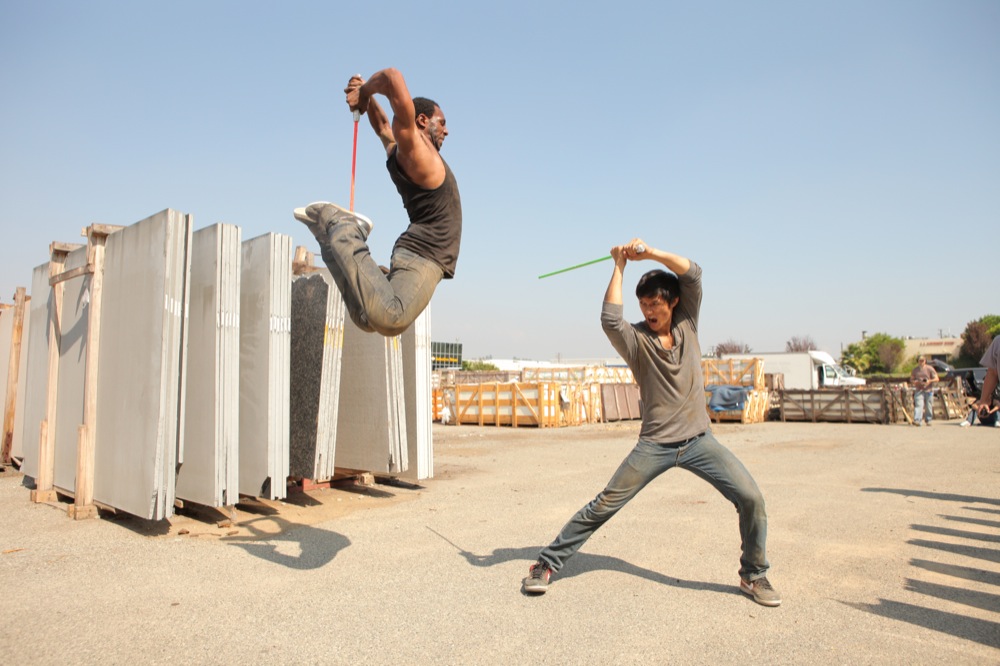 POST-PRODUCTION
When we shot the piece we knew exactly how we were going to comp each shot in post. All the visual effects were done in Adobe After Effects by my good friend from high school, David Adametz and I. We learned how to do the sword glows from Ryan Wieber's website and everything else from Video Copilot. Ryan was also cool enough to let us borrow his replica hilts and blades too! He actually has a Saber Shop now too.
To make tWitch's head fall off we had to accomplish a few things.
1. Take out his existing head
2. Replace the background his head covered
3. Track in a fake head and make it roll off screen
4. Add fx (blood, blade glows, smoke, etc.)
All these elements made for one long and time consuming shot. But since it was the climax of the movie, it had to be flawless and amazing.
LEFT: tWitch's head double RIGHT: We covered tWitch's head in green to mask it out in post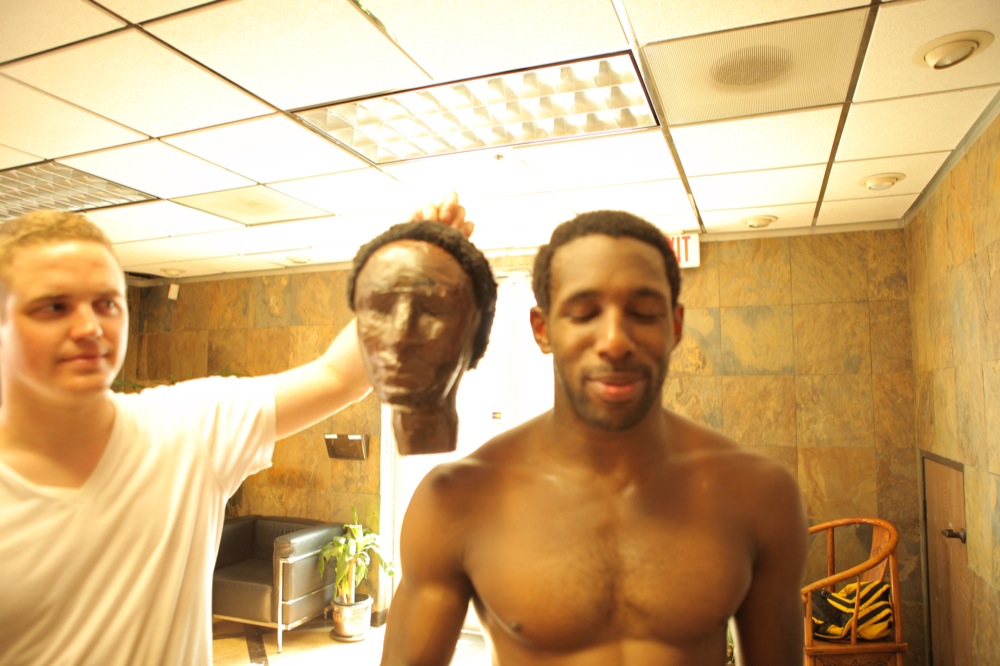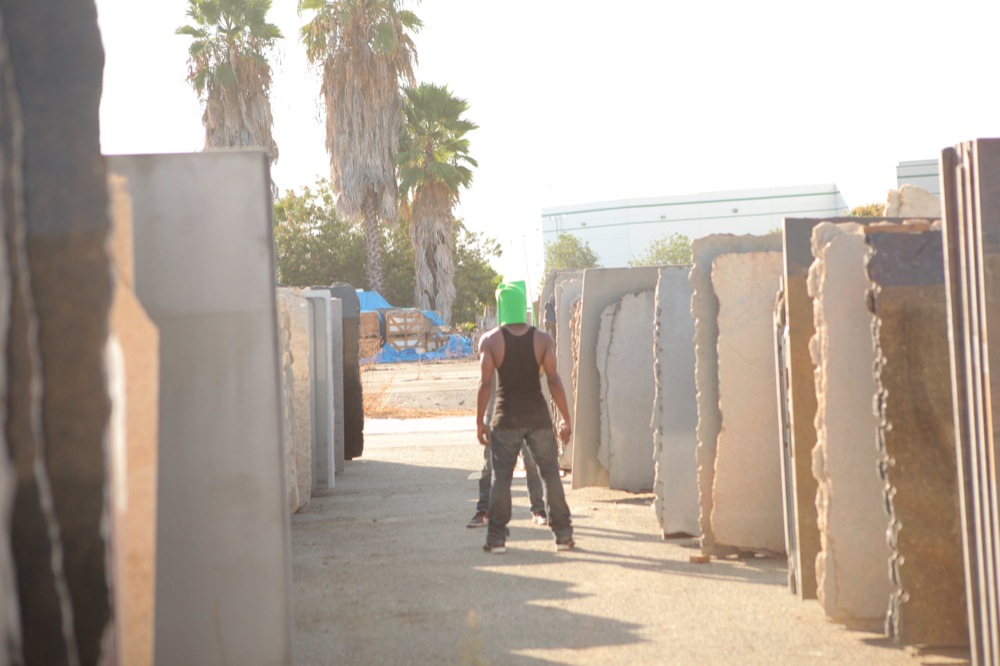 For the gunshots, we didn't use any live ammo on set. All the shots were done in After Effects and Harry was just holding an Airsoft gun. The muzzle flashes we pretty easy — they only exist for 1 or 2 frames, so we just threw in a picture of an explosion and made it small. The bullet hits and shrapnel were a bit more difficult David had to motion track them onto the slabs of granite to make them look realistic. He also took clips from Video Copilot's Action Essentials pack to make them look more realistic.
Coloring was done by me with Magic Bullet Colorista II. It is THE best piece of coloring software I've ever used. Apple Color can go suck it. I watched a few of their coloring tutorials on the site and instantly got a grasp of how to use it. It's so powerful, and the fact I can integrate it on After Effects AND Final Cut is a god send.
LEFT: tWitch getting some big air while I film them on the camera sliderRIGHT: This is how we filmed the running scenes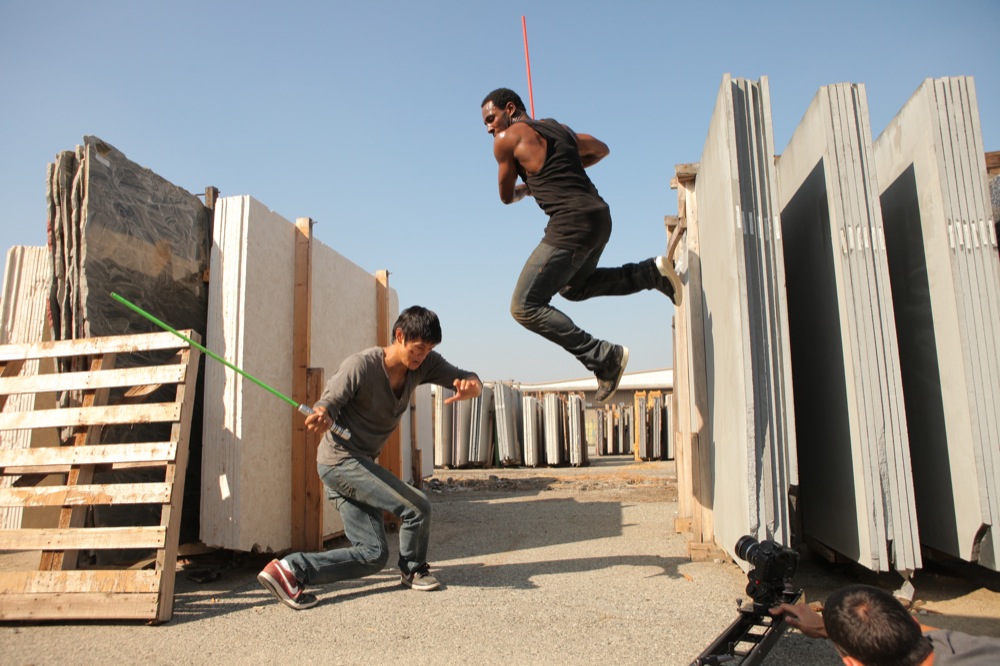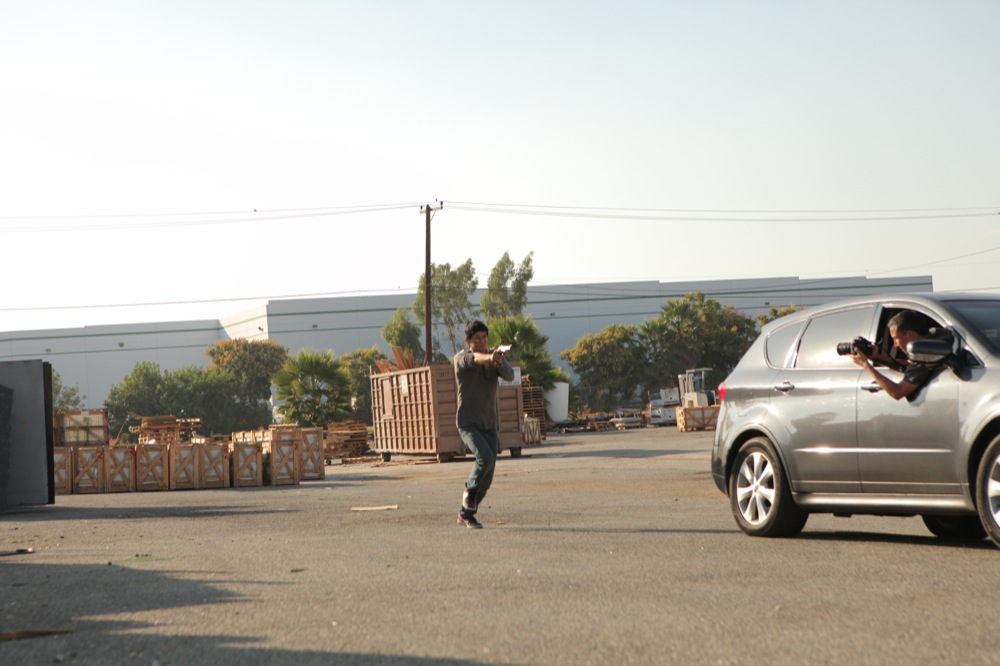 LEFT: Katrina Law posing for the camera RIGHT: Harry added to the mix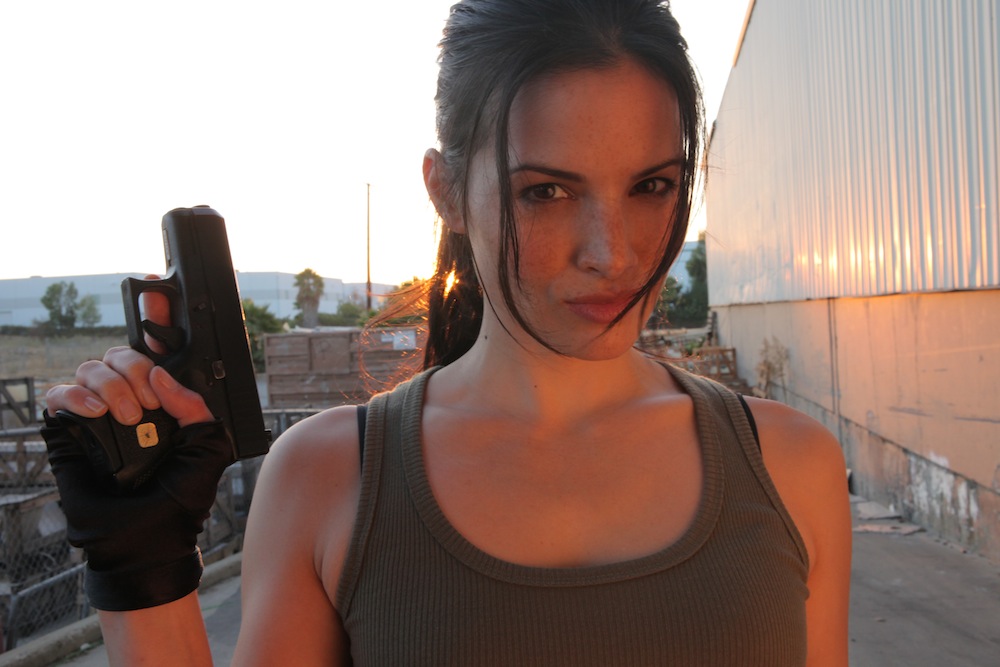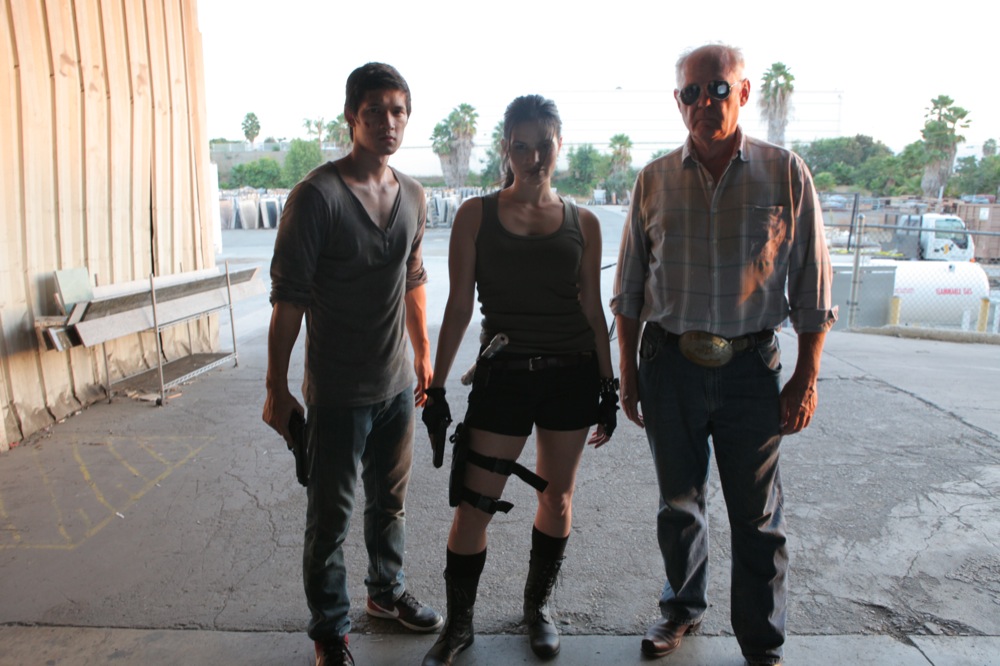 LEFT: Most of the cast & crew RIGHT: Katrina, Thaine, George, me, Don, and Harry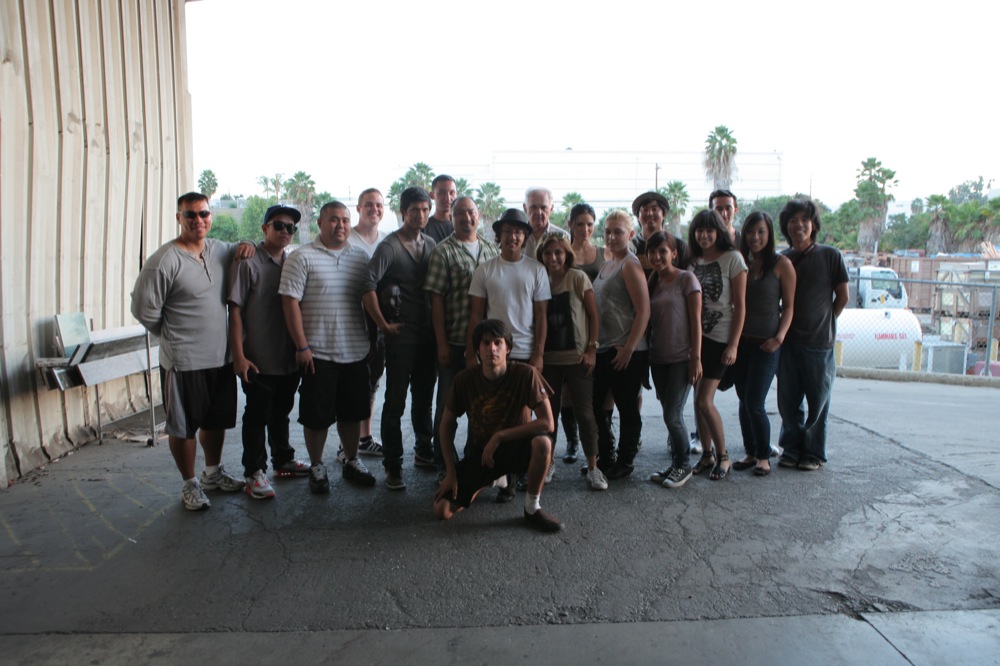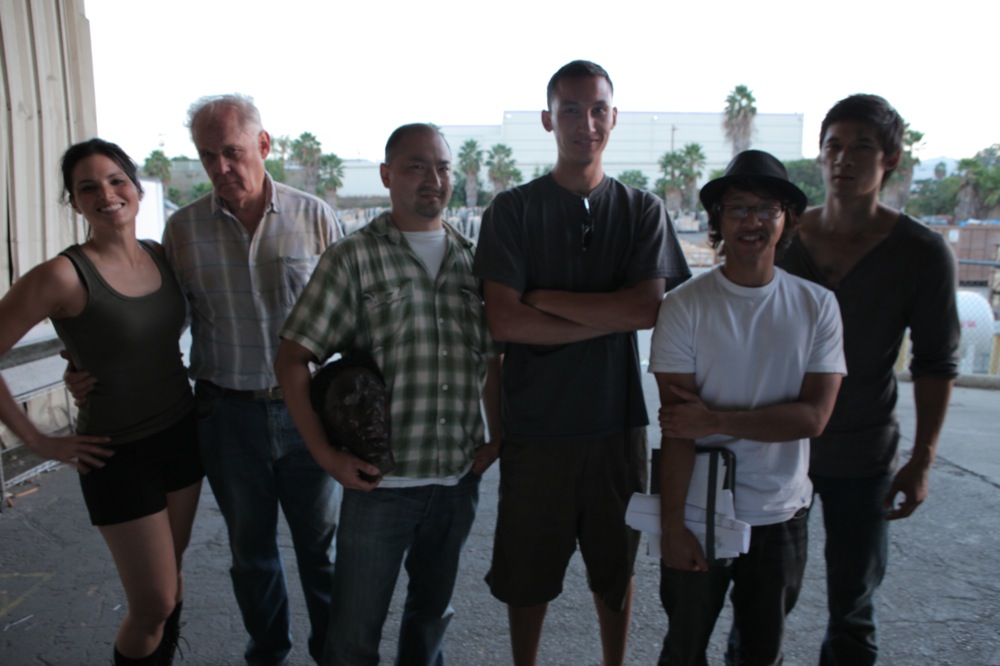 CREDITS
Producers George Wang & Don Le
Director of Photography Nathaniel Fu
1st AD Danny Do
Editor Ross Ching
Music Composer Paul Dateh
VFX Supervisor David Adametz
Stunt Coordinator Xin Wuku
Stunts (Add'l) Malay
Special Effects Modeler David Nicholson
Effects Fabrication Timberly Matonic
Gaffer David Keton
Key Grip Paolo Ongkeko
Best Boy Grip Justin Vancho
Boom Operator Evan Lee Dahl
Sound Add'l Paolo Ongkeko
Sound Design David Adametz
Stylist Roxy Flores
Stylist Asst. Raquel Flores
Makeup Jennifer Luna
Hair Danielle Starkweather
PA Katie Soo
Stills Photographer Nick Acosta
BTS Add'l Giordanny Orellana
Craft Services Adrian Zaw, Tiffany Nguyen
Location Manager Mike Yamamoto
Sponsors
Marshall Monitors
Selective Stone
Special Thanks to:
Mark Fisher
Ryan Wieber
Marissa Upchurch
Christine Chen
A Common Thread
Selective Stone
Nelson Diaz
blog comments powered by