Kina Grannis – Valentine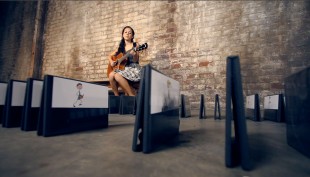 **Kina Grannis, the girl behind that "Gotta Digg" video in 2008 got signed to Interscope but left the major label scene prematurely. She brought her fans with her and released an independent album in February 2010.**

I first heard about Kina back in December 2007 when she made this "Gotta Digg" video. When I saw it, I thought to myself, "cute and talented girl, it'd be cool if she won the Doritos Superbowl contest". And that's pretty much all I thought about it.
The Degrees of Separation Rule
Fast forward two years, I've graduated college and am directing music videos and she just so happens to be a friend of a friend and our paths randomly cross. When I first met her, I didn't put two and two together (just like how I didn't put two and two together when I met Allison Stokke through a friend, but that's a whole other story). Later my friend said that she was the "Gotta Digg" girl from two years back. My reaction: WTF? THAT'S her?!?
We got in touch and it turns out that she was in the market for a director to make her a music video, and I was in the market to make an awesome music video, so everything kind of just fit right into place.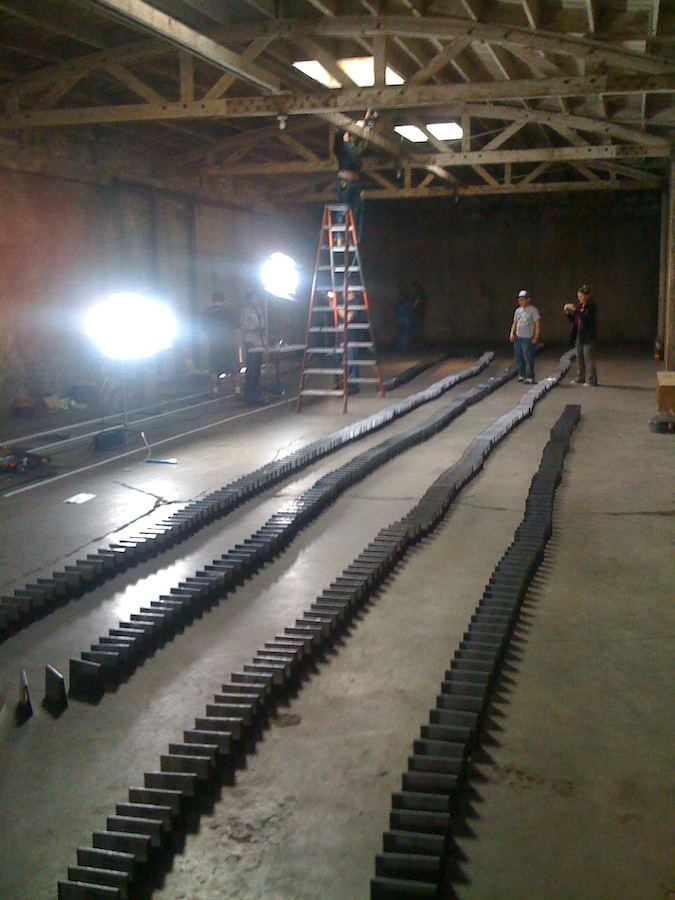 Right: We lined up about 760 DVD cases laterally across a warehouse floor to create a domino effect to last the length of the song.
THE CONCEPT
This is what I hate most about making videos – the agonizing pain of writer's block. I was browsing YouTube looking for inspiration, came across a Sony Bravia ad made in India, and it hit me. The Domino Concept. In recent years, I've come to be well known for time lapse and stop motion animation, so I wanted to stay close to my roots but at the same time continue the evolution of my style.
A long time ago I told myself that I'd never do the same video twice; hence why writers block is such an agonizing pain for me. With all the creativity on the internet these days, and the fact the the internet has been my main distribution point, has meant that one must go to greater lengths to stand out. And I believe that Kina and I, along with my awesome crew, have hit that pinnacle once again.
TECHNIQUE
My genius Director of Photography, Abe Martinez, threw out the idea of bringing on a veteran dolly grip to handle the precise movements required to pull these shots off. I agreed, figuring the depth of field we had to pull these shots of was somewhere between 4 and 6 inches. Keep in mind the "dominoes" didn't fall at a constant rate either. We could only afford 32 feet of dolly track so we broke up all our animation shots into 50-60 frame chunks. It took us about 7 hours to complete all these shots.
Prepping for this shoot, I used my expert drawing skills to draw up an overhead floor plan of the building, working out details such as how much room 760 DVDs would take up and where a good placement for our dolly would be.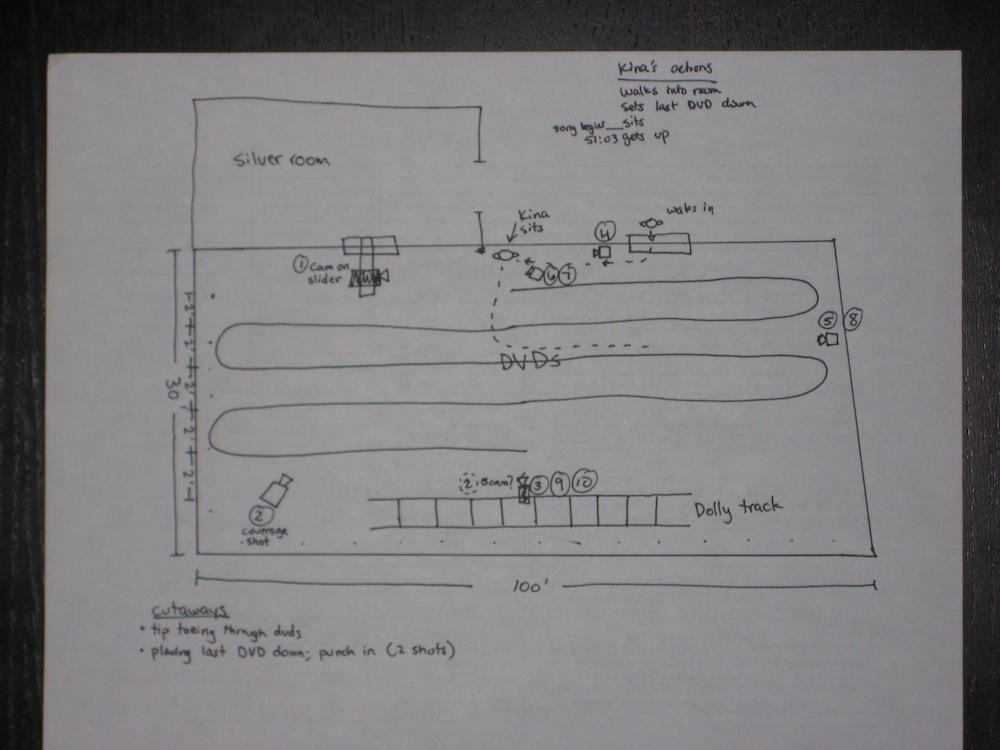 And finally, we setup all 760 DVDs and knocked them over!
Credits and more photos and video
Artist: Kina Grannis
Director: Ross Ching
Animation Drawings: Sarah johnson
Executive Producers: J.P. McMahon & Tristan Drew
Producer: Noelle Kessler
Director of Photography: Abe Martinez
Swings: Jose Martinez & Geoff Bund
Dolly Grip: Todd Griffith
Production Assistants: Jesse Lee, Veronica Garcia, Julius Cruz, and Mike Mordeci
Kina's Manager: Jonathan Kalter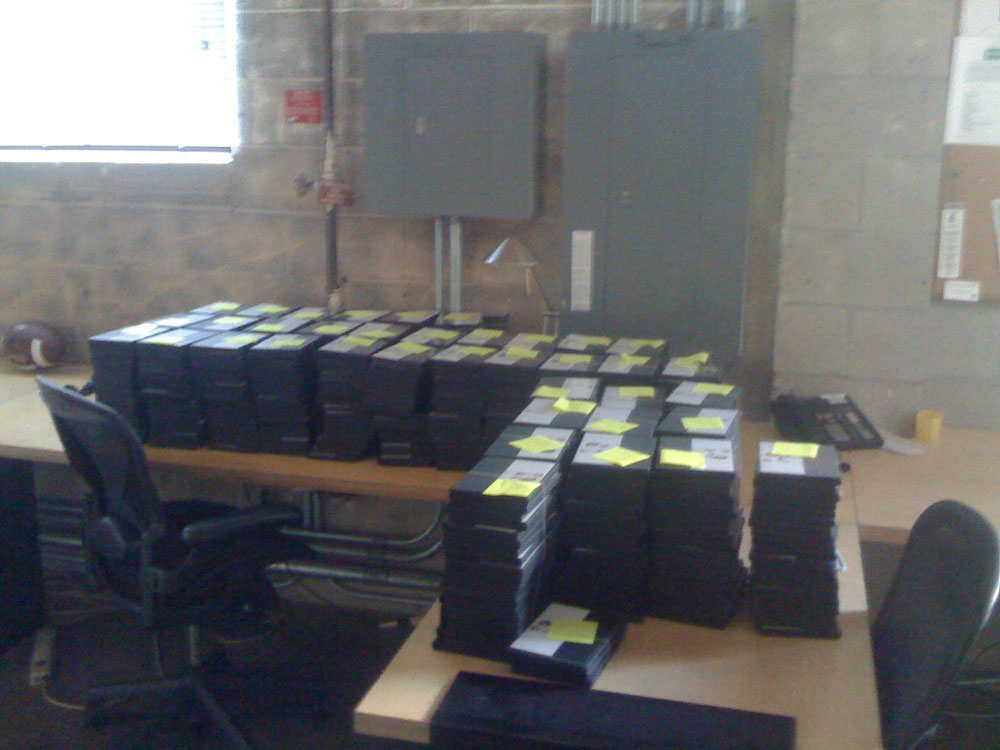 Prepping for the shoot, we ordered the 760 photos from Costco and 800 cases online and stuck them inside the sleeves.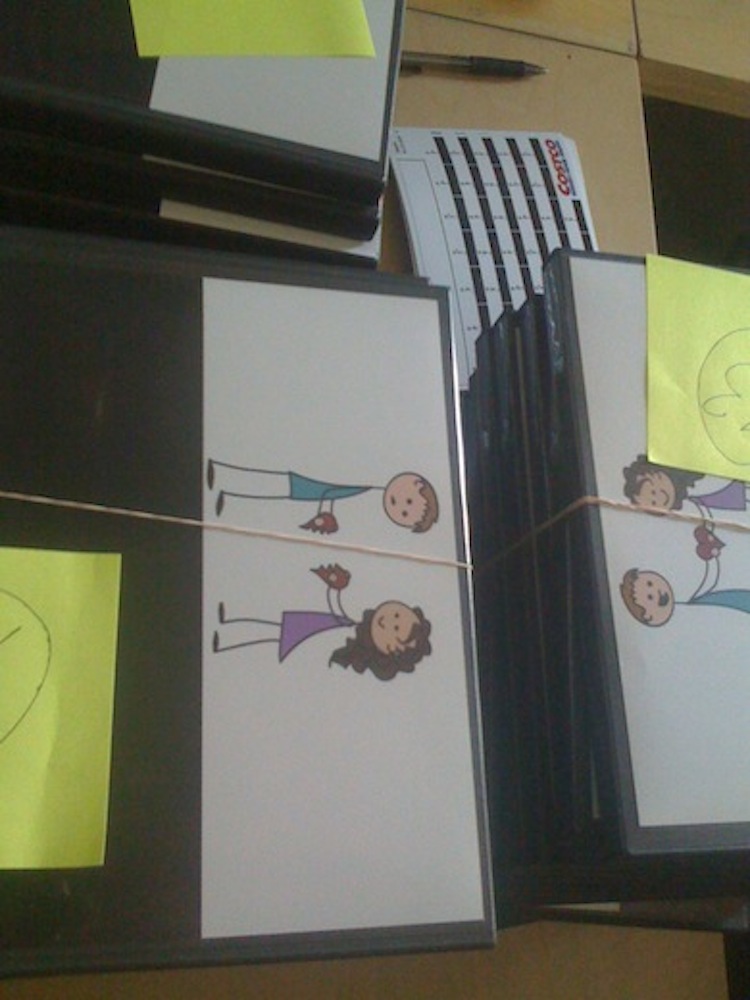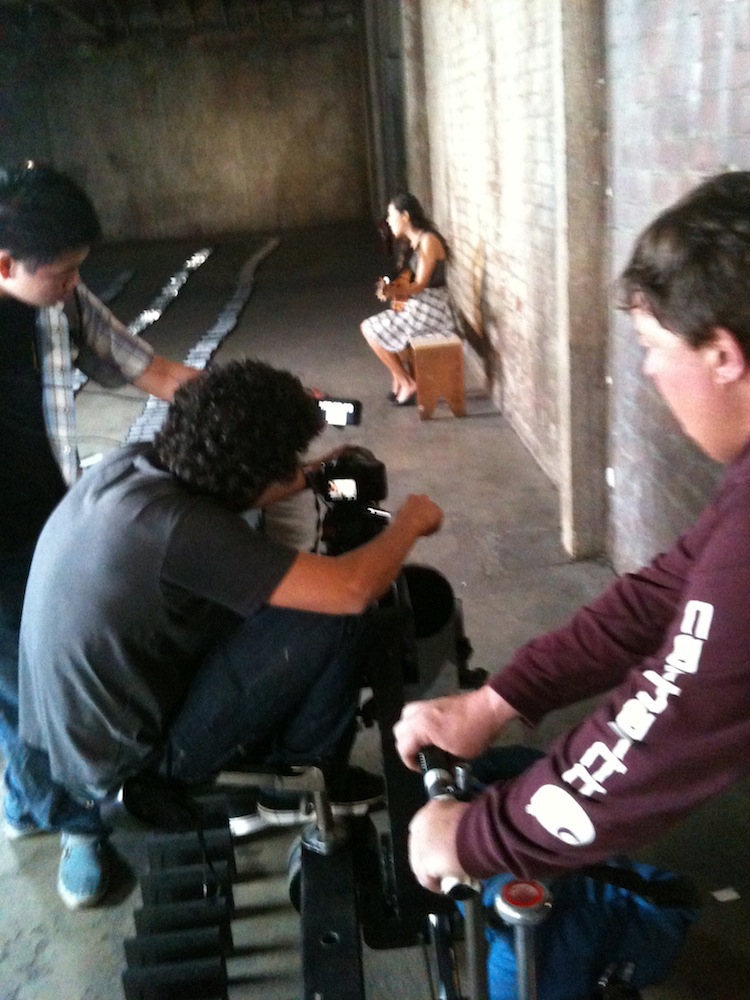 Left: A closer shot of the DVDs Right: DP/Camera Op Abe and Dolly Op Todd prepare a shot with Kina in the background

One final check to see that all DVDs are the correct length apart
blog comments powered by