Clara C – Offbeat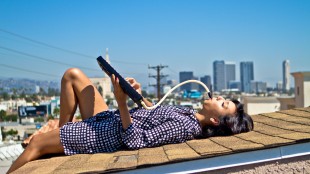 Back when we released Kina Grannis' music video in February 2010, Clara tweeted at me talking about how much she loved it. That's what initially piqued my interest in her work. What I liked about her Youtube page was that a lot of her songs weren't just her standing in front of her webcam — they were little amateur music videos.

Months went by and she kept popping up on my radar so I finally suggested that we collaborate on something. There was essentially no budget to do anything, but we had a camera and some creative minds. I saw this video and instantly sent Clara an email saying that we should do this — it was cheap and it was something that we could pull off beautifully.
THE CONCEPT
For this video I knew that we were basing it off of a video that was already out there, so I wanted to put my own spin on it and give it some higher production value; even though we had no budget. I also wanted to center the music around the theme of bubbles. To accomplish that, you'll notice that there are many different kinds of bubbles in the video; giant, small, underwater, drops of water on glass, suds, etc.
I wanted to differentiate the video by having Clara in other locations besides the beach because an entire music video where there's no story and the environment doesn't change gets boring really fast. We settled on shooting under the Santa Monica pier, railroad tracks in downtown and a pool of water at Chantry Flats near Pasadena.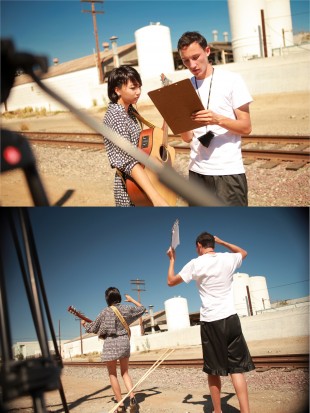 Right: Clara and I on the tracks during the railroad scene
THE BUBBLE RECIPE
The whole goal (as with every other project) was to create something new and fresh. To an extent, we copied someone else's work, but I think of it more as inspiration — and that's something that I want to spread. Simply adding soap to water is only sufficient for small bubbles. When the scale becomes bigger, you need something that binds to itself better than soap and is more robust. so without further ado, here's the recipe that we used to create the giant bubbles.
Make sure everything is as clean as possible — buckets, stirrers, rope, etc.
1.5 gallons hot water (if you have hard water it helps to use distilled water)
.5 teaspoon J-Lube (http://jefferslivestock.com)
4.25oz Surgilube (http://vitalitymedical.com)
1/4 cup Glycerine (http://essentialoil.com)
16oz (2 cups) Dawn (the cheap stuff you get at the grocery store)
1/2 cup Dawn Manual Pot & Pan detergent (I found this at a local janitorial supply store)
Blend all the ingredients together really well using a paint impeller attached to a drill and keep the impeller as close to the bottom of the bucket as possible. This prevents foam from forming.
For the string, we just used cotton string about 1/4 inch wide. Basically you just need a type of rope that is able to hold a lot of liquid. The bubbles work best when the humidity is high and wind is calm. It also helps to be out of direct sunlight because as soon as the bubbles dry, they pop.
Or you can go here and see the video version of the recipe.
TECHNIQUE
I think that the most challenging aspect of this project was the fact that it's REALLY hard to make large bubbles that cooperate with us. From the bubbles popping and getting goop all over the lens to slippery surfaces to bubbles that pop prematurely, they were really hard to make. Smaller bubbles were easy, but the ones that are the size of a small car were hard to come across.
Another challenging aspect for this film was the fact that there was no budget. Everyone volunteered their time and we had to be at each location without making too much of a commotion so not to attract the police since we didn't have a filming permit.
Filming was done on a Canon 7D. The only real equipment we used were a slider, tripod and sunshade — a very basic setup that got the job done by placing the camera so that the sunlight would hit her nicely.
Credits and more photos
Artist: Clara C
Director/Cinematographer: Ross Ching
Producer: Don Le (http://fusion3films.com)
Swings: Daniel Chae & Harry Zehenny
Make Up: Nancy Jae Park
Clara's Manager: Jon Chang
blog comments powered by