Eclectic 3.0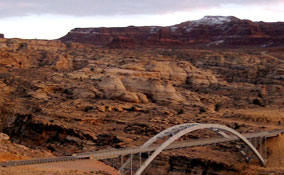 I took about 15,000 still photos and strung them together to give the illusion of motion. If you're still curious I made a video that shows how the time lapse process works.

When I was planning this little movie I was ending my final semester of college. I was really stressed out from producing Senescence all semester long and I just wanted to leave by myself and drive. For this film, I didn't travel to South America or have anyone help me out or even spend much time at each location. I didn't want to spend hundreds or thousands of dollars flying out to these exotic locations, so what I did was visit The Roads Less Traveled in the western United States.
It's amazing how many beautiful places you'll come across when you go exploring without any real direction (luckily my iPhone kept me from getting lost). I knew the general areas that I wanted to visit – very touristy areas. But when I ventured off the beaten paths it was as if a whole different world opened up. Some places seemed like the surface of Mars and I was the only person in a 50 mile radius.
The season is also important to keep in mind. I was traveling in the middle of winter. Apparently nobody likes to go to the desert in the winter, which was great for me. There was one point in the Glen Canyon area where I drove for about 100 miles and didn't come across a single person.


Download in 480p(38.7 mb)
Download in 720p (83 mb)
Download in 1080p (184 mb)
Music: L'estasi Dell'oro
by Ennio Morricone on iTunes here
TECHNIQUE
When you watch it, some shots might look a little odd. As if the objects were tiny toys. Or you might wonder why some things are out of focus. The reason is because I used a tilt-shift lens to rotate the depth of field to make it look as if these huge expansive vistas were tiny models. If you do a Google search for "Fake Miniatures" it'll give you many examples.
Also, I took exposures at the 40D's full 12 megapixels. This meant that when I went into Final Cut, I could pan the image digitally without losing resolution in a 1080p workspace. Final Cut cannot handle clips larger than 1080p very well, so I made offline ProRes files and reconnected them when I was done editing.
LOCATIONS
Here's a map with descriptions of some of all the places I visited on the road trip. I started at Lake Tahoe, worked my way east, then south, ending up in San Diego. Click on a point to see a short description of the place.

Great Basin NP, Nevada

Hmm, so may choices.

Somewhere along I-70 in Utah

Another viewpoint on I-70 in Utah

Arches NP, Utah

Natural Bridges National Monument

My tripod wouldn't go high enough so I rigged it on the info board.

Just outside of Glen Canyon on SR-95.

Camera setup at above location

Beggars Canyon?

Looking down into the gash near Glen Canyon

The road leading to the Colorado River

The most ridiculous road I've ever driven on…with ice.

Monument Valley, AZ/UT

The scene from Forrest Gump…"Running on Empty"

Hmm, doesn't really look "open"

30 degrees outside and yet there's still the heat wave illusion

Standing on the surface of Mars…someone abandoned their car below.

The layers of history

Sedona, AZ – Sporting the Digg sweater

Picacho Peak State Park in Arizona…3 mile hike, 1300 vertical, grabbing onto cables to prevent falling to one's death

The view from above

Ajo, AZ – An old copper mine 10 miles from Mexico. Border Patrol stopped me 3 times that day.
blog comments powered by