Distortions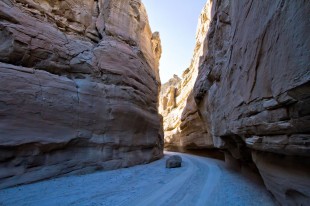 I realized when I set out to do this project that this concept was going to be really "out there". But that's the beauty of filmmaking. We're encouraged to take risks and experiment with new ideas and concepts.

So what the hell is this?
I initially was inspired by stumbling upon the image at the right. What you're looking at is an image distorted 360 degrees (called reflective art) around a central point, but when you put a chrome cylinder in the middle of this image, it reflects back, removing the distortion put into the original video. What you are seeing is a 24-inch monitor laid horizontally playing the distorted video that I shot and edited over the course of 3 days.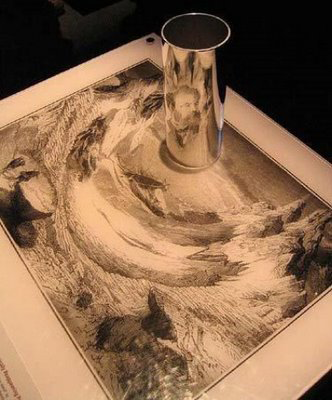 Locations
If you're curious about where this was shot, I made a Google Map of all the locations I used in the making of this.
Special Thanks
I'd like to give a little thanks to everyone at the production company "A Common Thread" for putting up with all my equipment all over the office as well as their newest intern, Brian Hollars, who helped me shoot the LCD monitor shots.
This is a Ross Ching Labs project.
Without further explanation, enjoy Distortions
.
.
.
.
Music: "Blue Skies" by Noah and the Whale
The Undistorted Video
I have to admit, I actually like the undistorted version of this video more. So why take beautiful footage and mess it all up?
Because the undistorted-type of cinematography has been done before. Any art form is about pushing the envelope, experimenting with things you don't normally see, and exploring outside your comfort zone. Nobody remembers the runners up. At any rate, here is the undistorted version of the video so you can get a better idea of what was in the video.
Production
This project was another one of my little passion/experimental projects, so there was no budget for anything. But I did have a few resources at my disposal, like my Canon 7D, suction cup mount, slider and car. No dolly? No problem. I just stuck the camera to the car and drove really slowly. (If you're looking to buy a suction cup mount, it's called the Avenger F1000.)
Beautiful locations make my job so much easier. This location is a very obscure place deep within Anza-Boreggo Desert. Some of the coolest canyons I've ever come across, and more importantly, that people don't know about.
The desert in the summer is no bueno. At one point, near the Salton Sea, I attempted to drive through a small portion of dry sand. Bad idea. I ended up getting the car stuck in the middle of nowhere in 108-degree heat. I spent about half an hour sweating like a dog digging the sand out from underneath.
blog comments powered by